How to build your own Ebay
While creating your own trading marketplace like Ebay may seem like a daunting task to take on, with a little elbow grease and some determination, it is possible to create such a platform.
The first step is to find a niche market that you can tap into. This could be something as specific as vintage cameras or as general as second-hand furniture. Once you have identified your target market, the next step is to create a platfrom that is easy to navigate and appealing to customers.This will make it easy for potential buyers to browse your selection and make purchases. You will also need to set up a payment system and design shipping options that meet your customers' needs. Finally, it is important to promote your site through social media and other online channels. With a little effort, you can build an Ebay clone that meets your specific business needs.
As building such a platform from zero might not be a good idea, you should rather consider using an external marketplace buidling platform that will let you get started quickly and easily.
How to set up your platform
If you want to build a successful trading platform then MIP marketplace building platform is definitely your choice. Follow the link, and fill in your email address and password.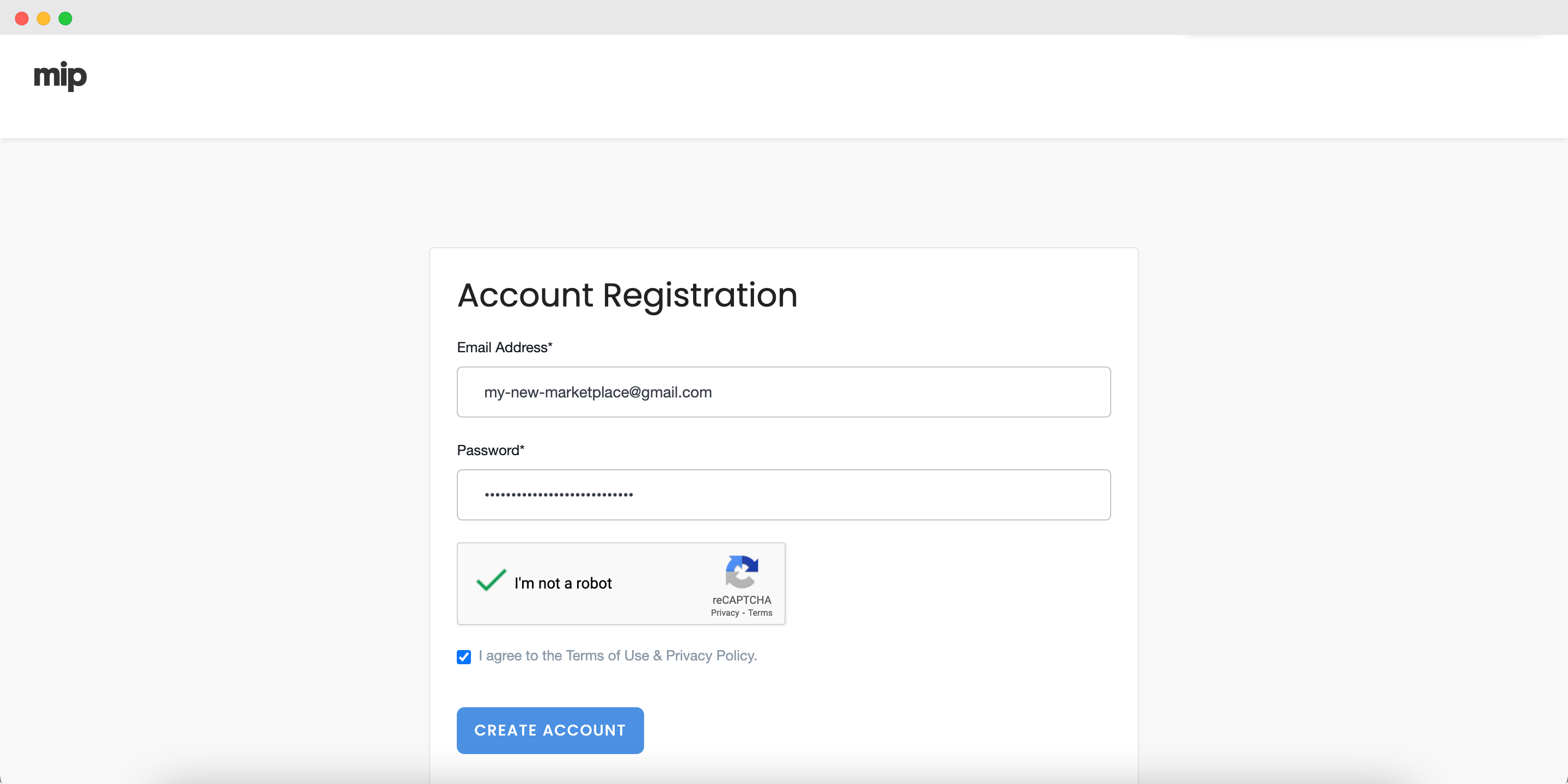 Once the account is created, you need to tell us a bit more about your future marketplace. Just fill in your name, name of your marketplace, currency and country.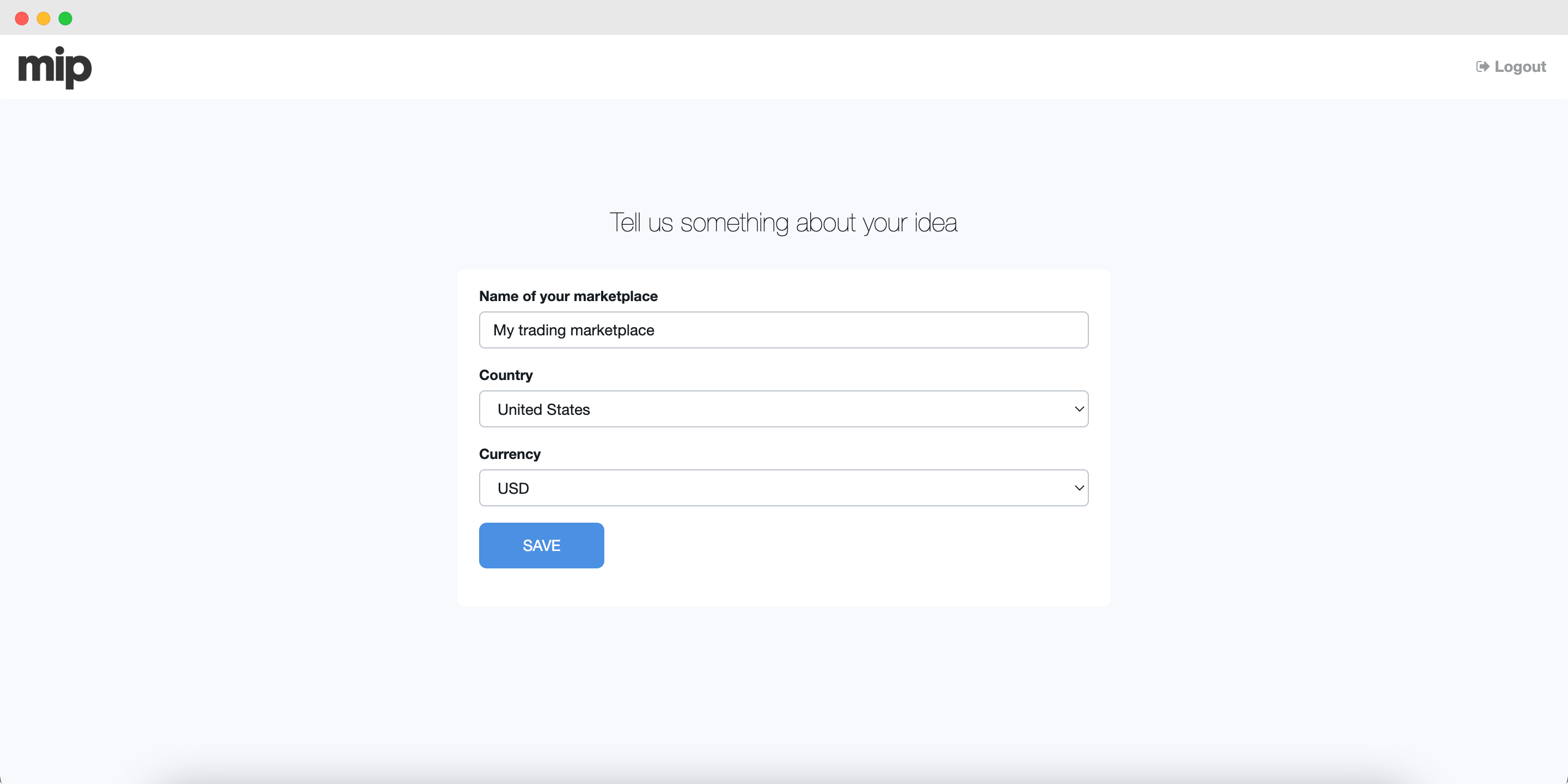 In the next step, choose "Trading view" option. If you also consider building a rental marketplace similar to Airbnb take a look at this tutorial.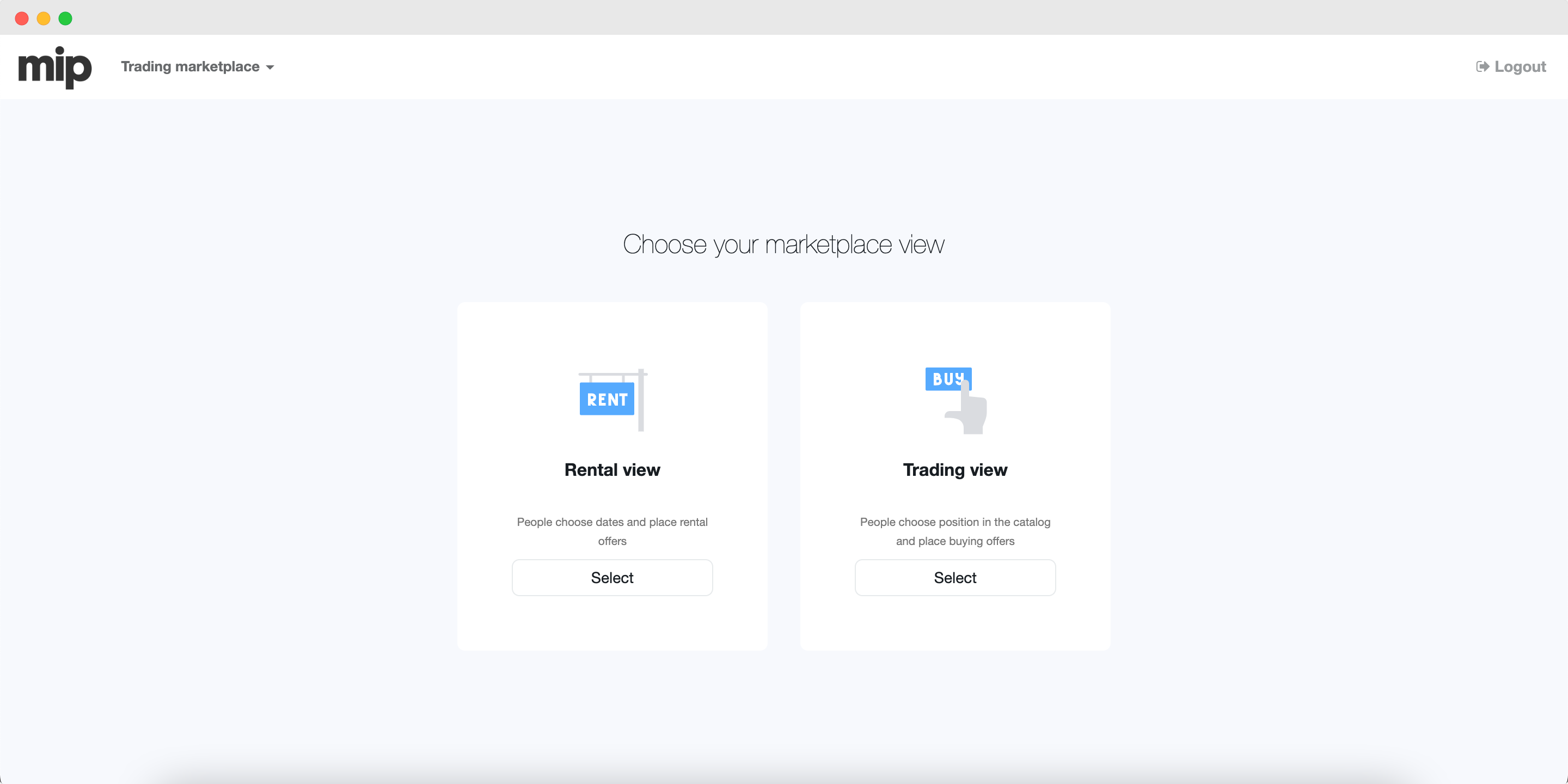 In the next step, you also need to define the pricing strategy. Would you allow to place offers for free on your marketplace or you want to charge a fee for every transaction?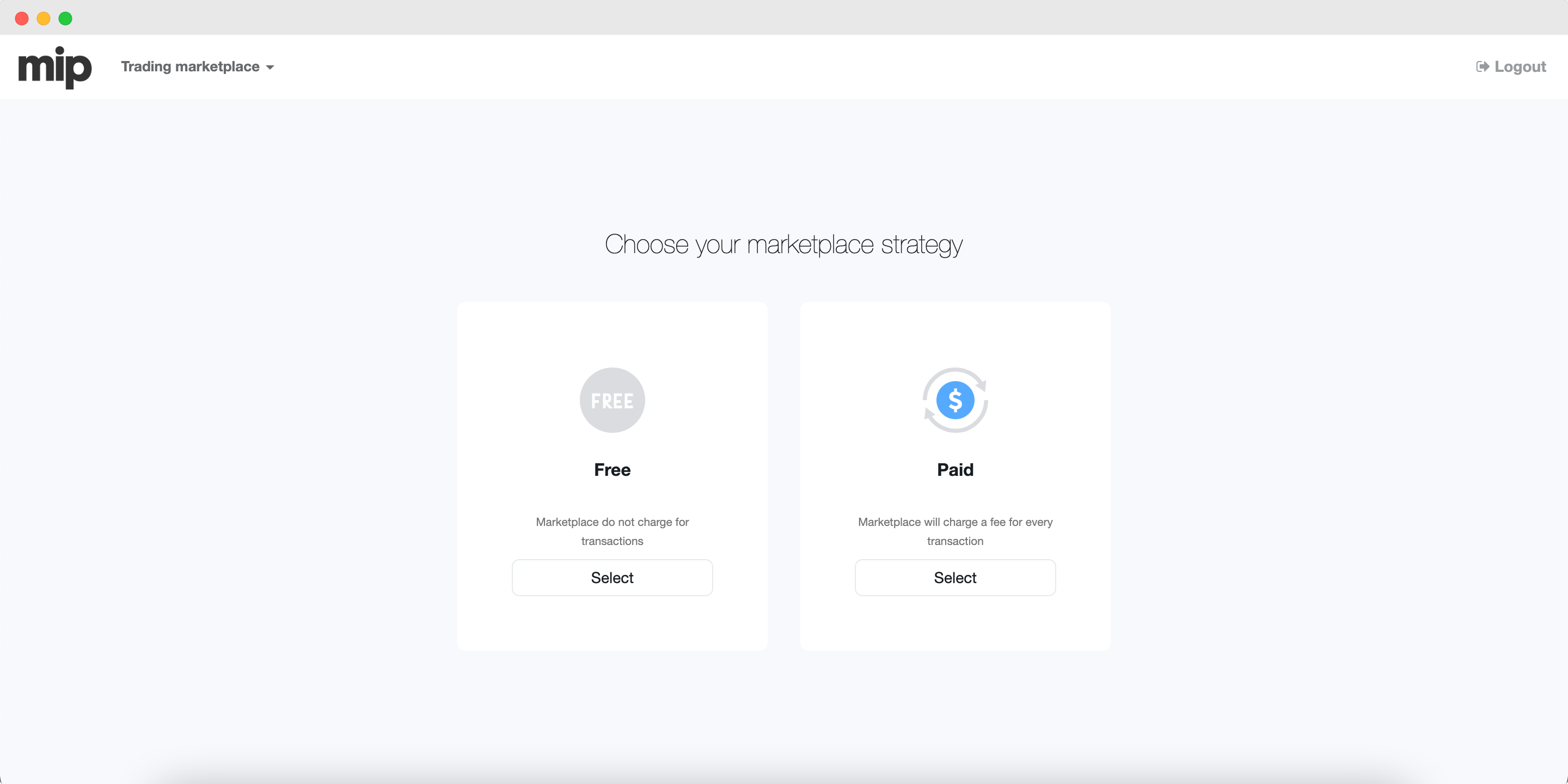 If you decide to go with "paid" option, you also need to specify the way commission for transactions will be charged.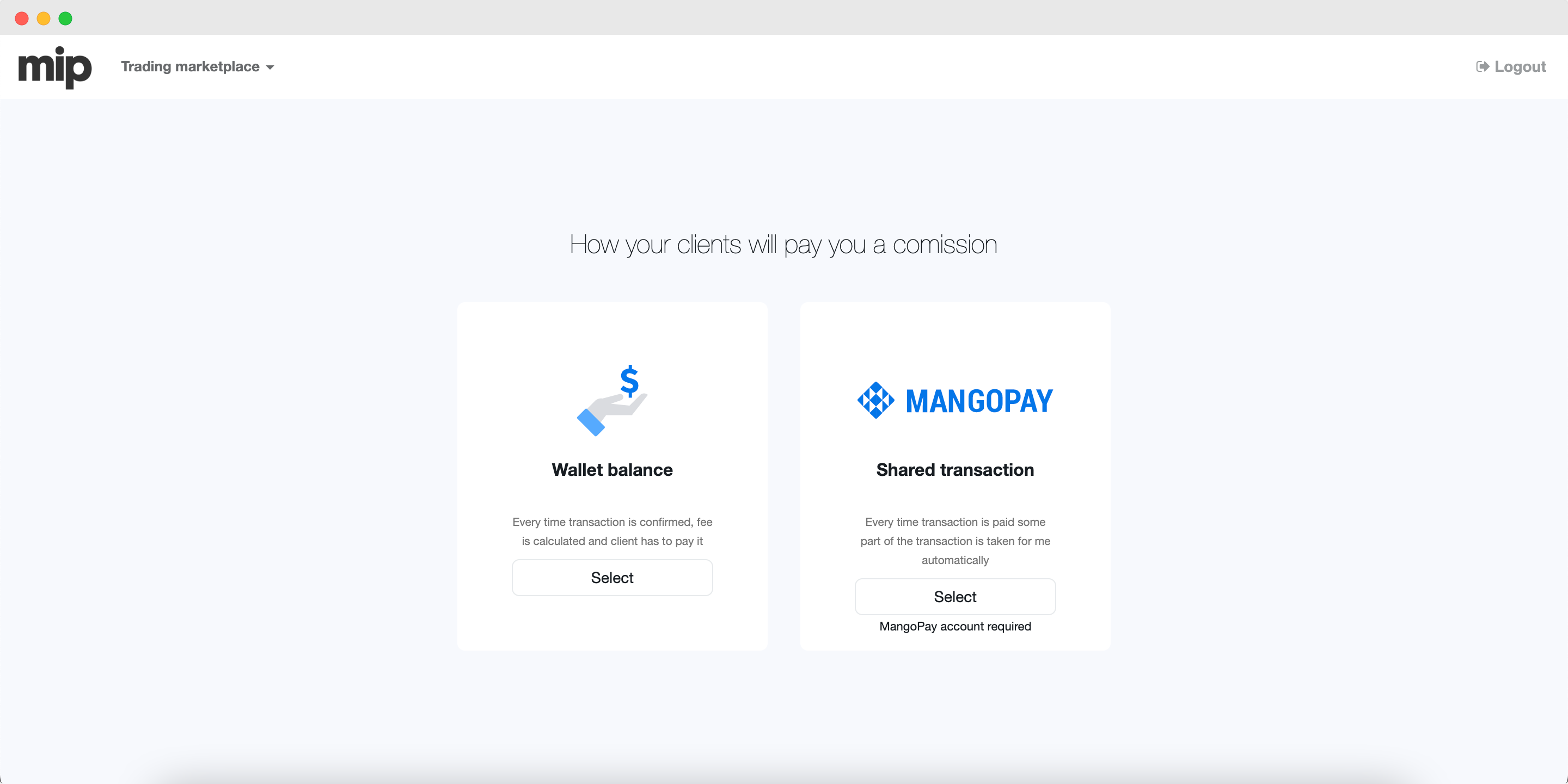 Wallet balance. Commission will be accumulated on a seller's account and they will need to pay it to you through the established method. Via bank transfer or via Stripe for example.
Mangopay. It is a service which allows for automatic distribution of a commission between seller and the owner of a marketplace. Please be aware, that you need to create your own account in Mangopay to be able to use this feature. Verification process can take up to 3 months, so, keep this in mind.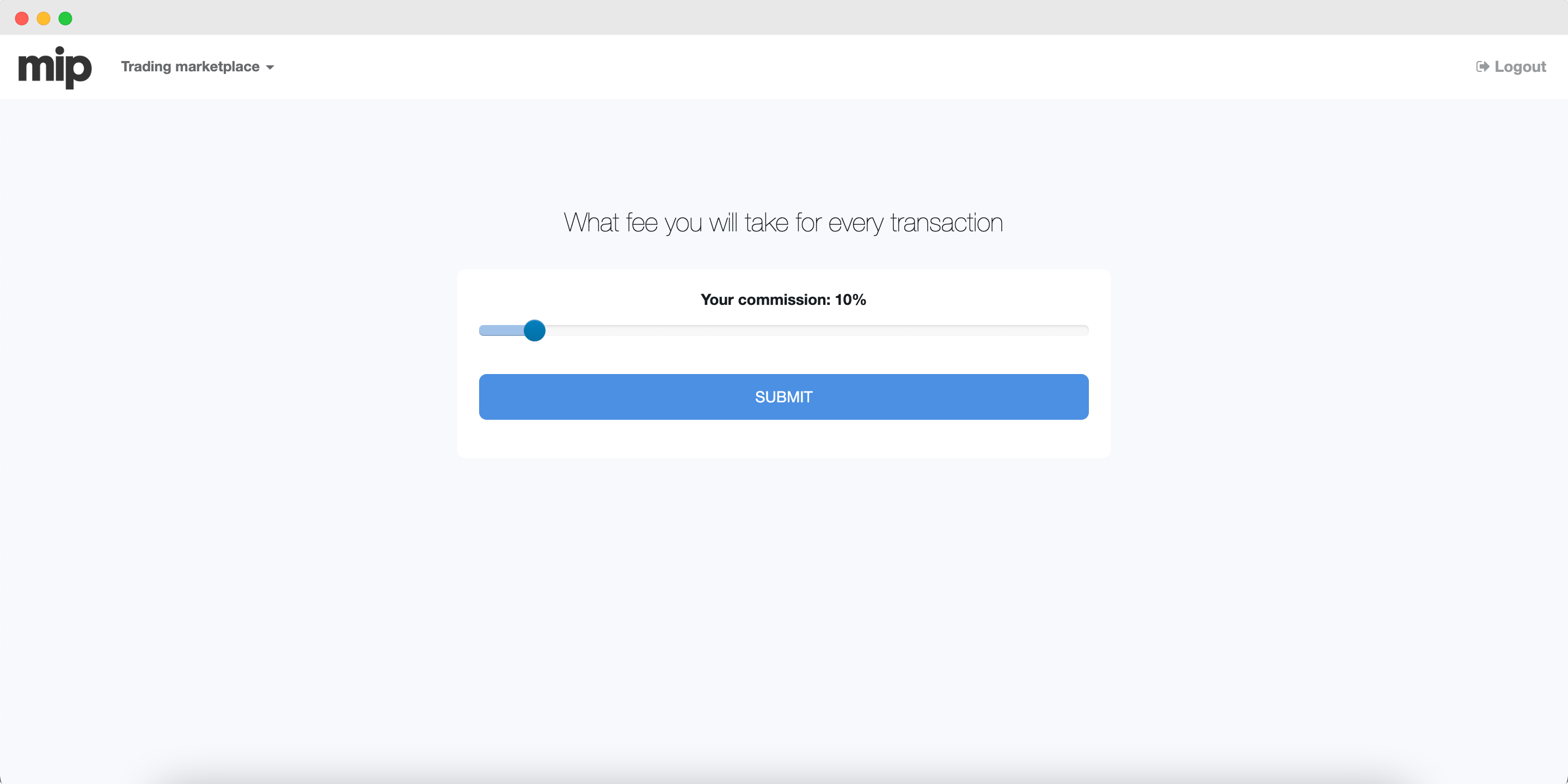 After that, define the percent of commission which will be taken from every transaction made on your marketplace. You can always change it later in the settings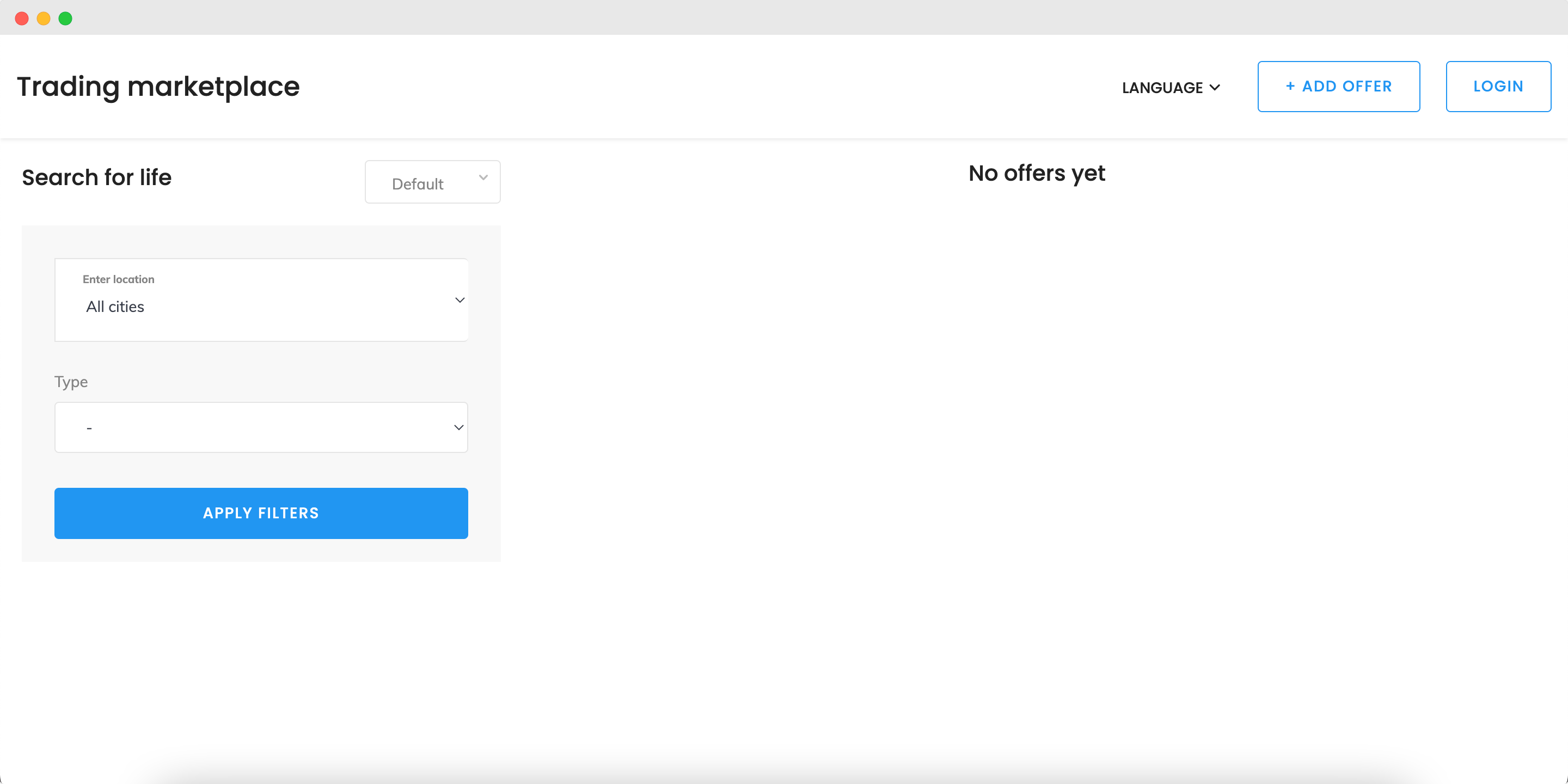 Once you've completed these simple steps, your rental marketplace is almost ready to go. It becomes available for everyone on the internet but still requires a bit of customization to make it perfect :)
Configure your filter
Filter makes it much easier for buyers to find product they need. Let's say, we are creating a marketplace for selling used phones. Basically, here you can put any information you consider to be important. For example: smartphone brand, amount of RAM itd. All the information provided here will be collected from a seller while publishing an offer.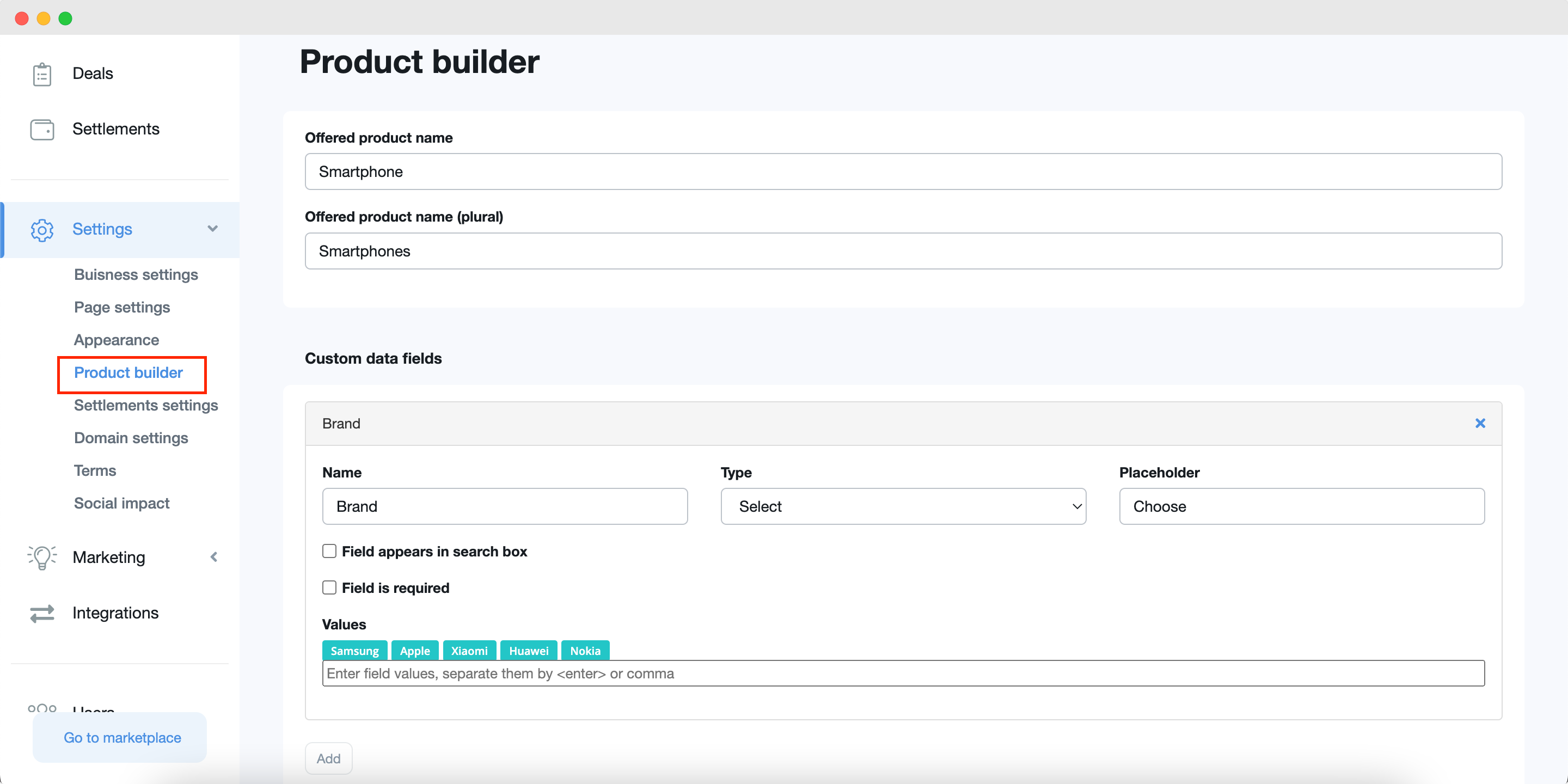 Connect your own domain
If you're ready to start attracting first clients to your marketplace, you'll need to connect your own domain. This process is relatively simple, and it will give you a more professional-looking online presence. First, you'll need to purchase a domain name from a registrar like GoDaddy or Namecheap. Once you have your domain name, you can then connect it to the marketplace via your marketplace's settings page. Simply enter your domain name into the appropriate field, and the marketplace will take care of the rest. In most cases, you'll need to verify your ownership of the domain before the connection is complete. However, once everything is set up, you'll be able to start offering your services under your own brand!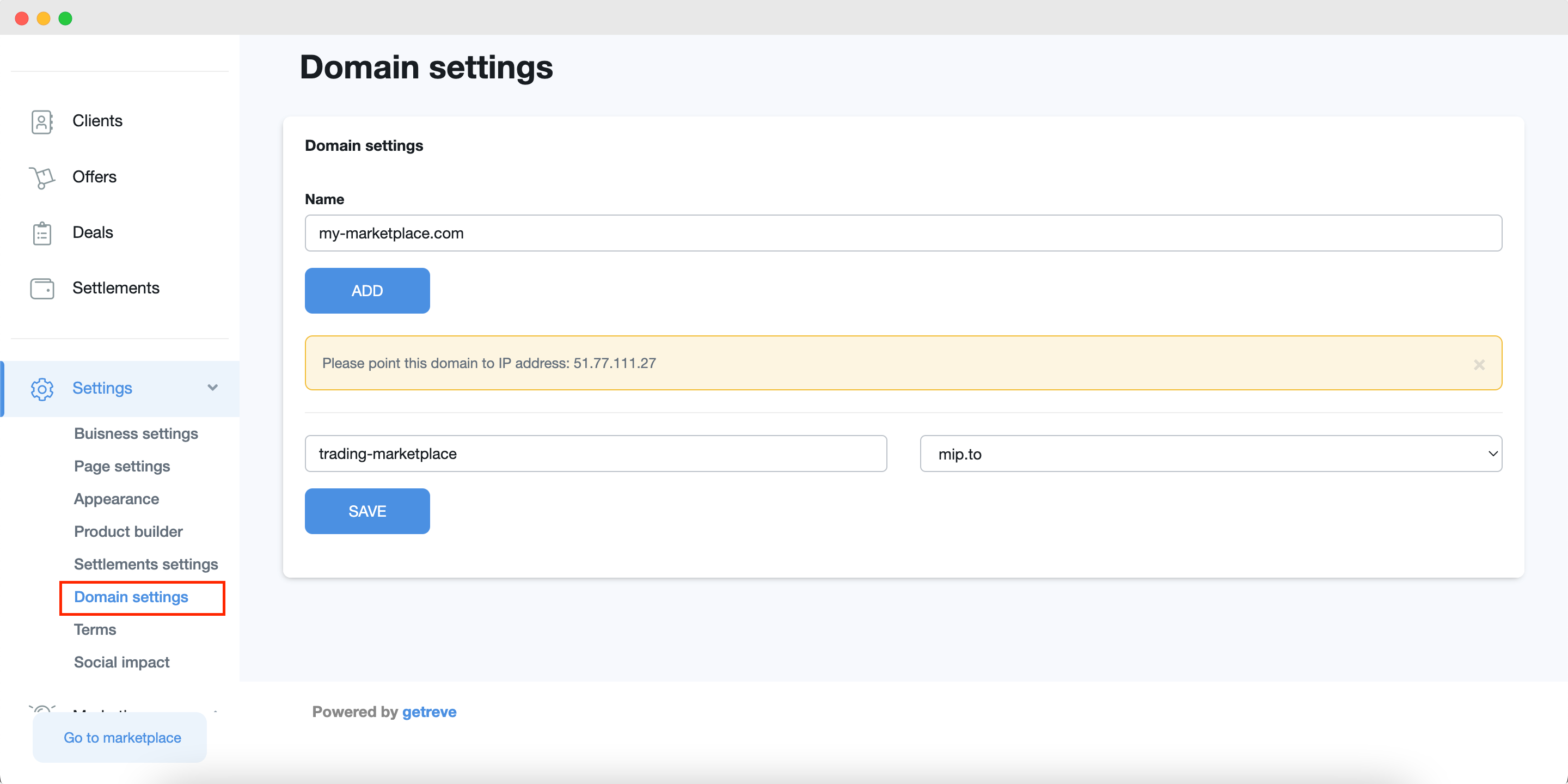 Configure settlements
If you decided to take a fee for every transaction made on your marketplace then it is very important for you to configure settlements settings and define the way how your clients will pay you a commission.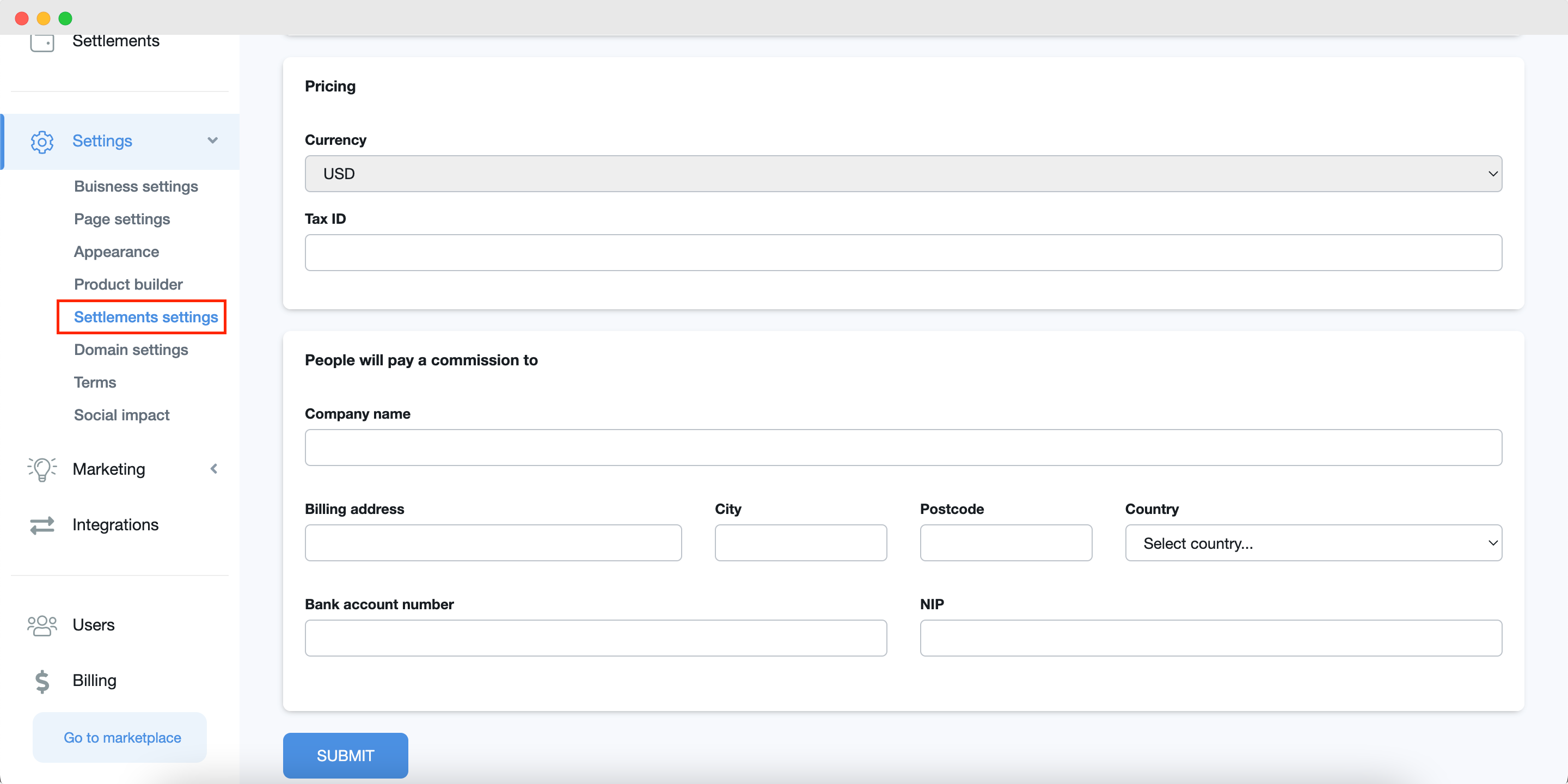 Go to "Settlements settings" and fill in the details for a Bank transfer. This is the main method how your clients can pay you a commission. Remember that you also can create an account in Mangopay which allows for automatic distribution of commission
Manage offers and deals
Once an offer is placed on your marketplace, you can see it in "Offers" section. Depending on the system settings, offer will automatically appear on the platform or you will need to manually approve it first. From this panel, you can block offer, check it details, contact owner or edit it.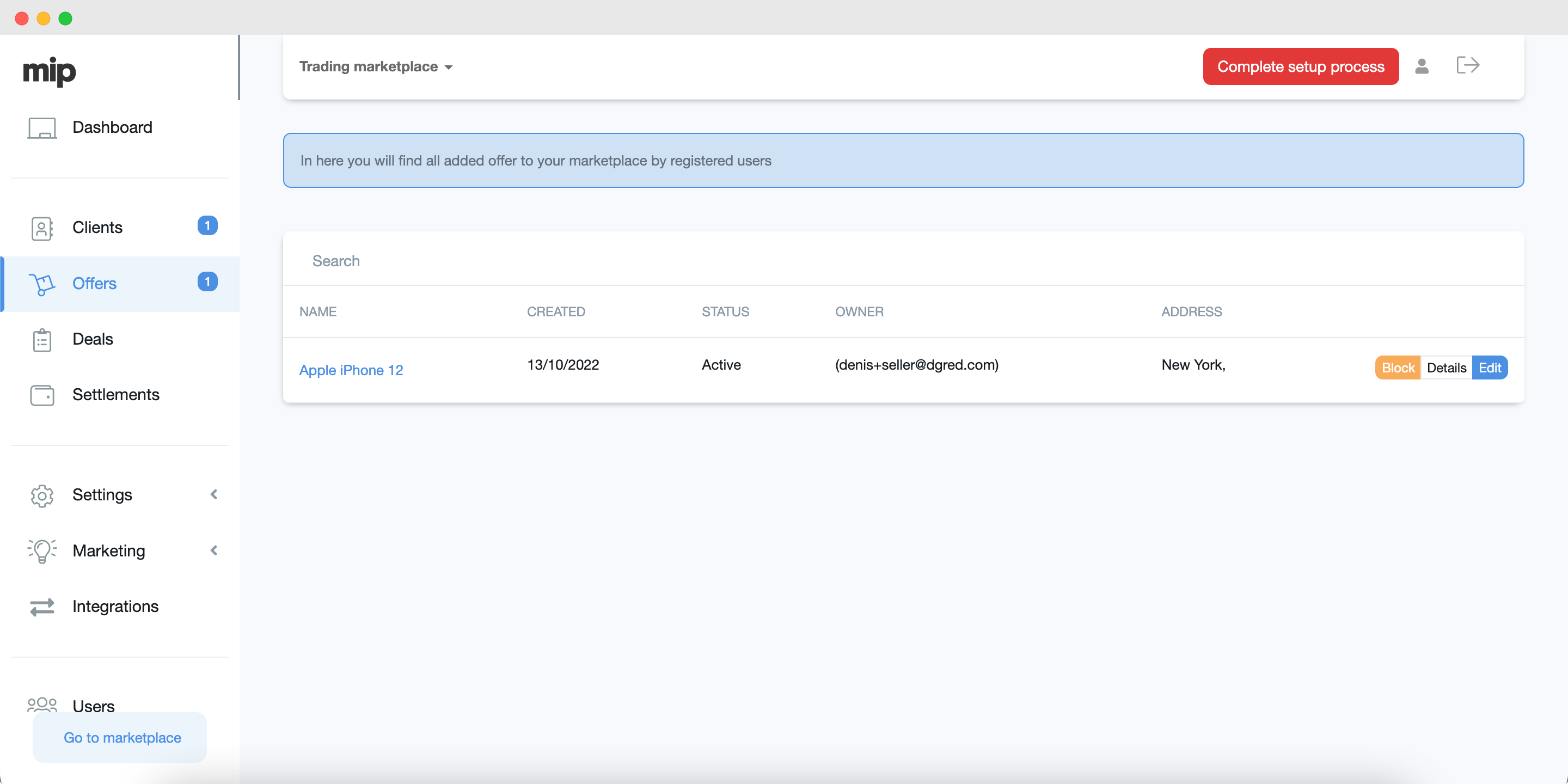 Once a deal is made on your marketplace, meaning that someone has bought a product listed on your marketplace - it will appear in "Deals". There you can check all the information and also see how much commission you earned from this deal.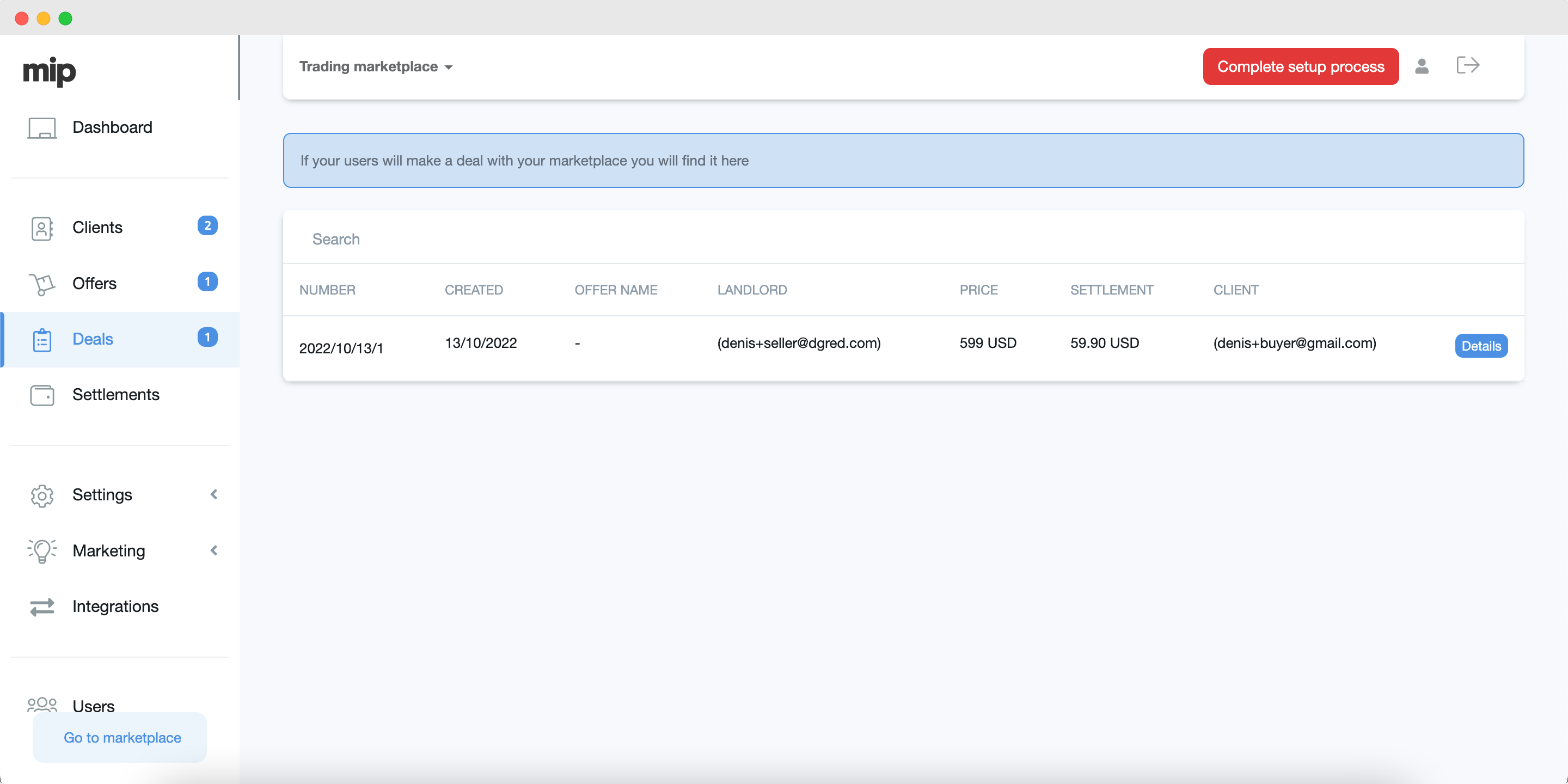 How sellers can add their offers
The first step for a seller to be able to add own offer to the marketplace is to create an account on the marketplace. Then, they need to click on the "Add Offer" button.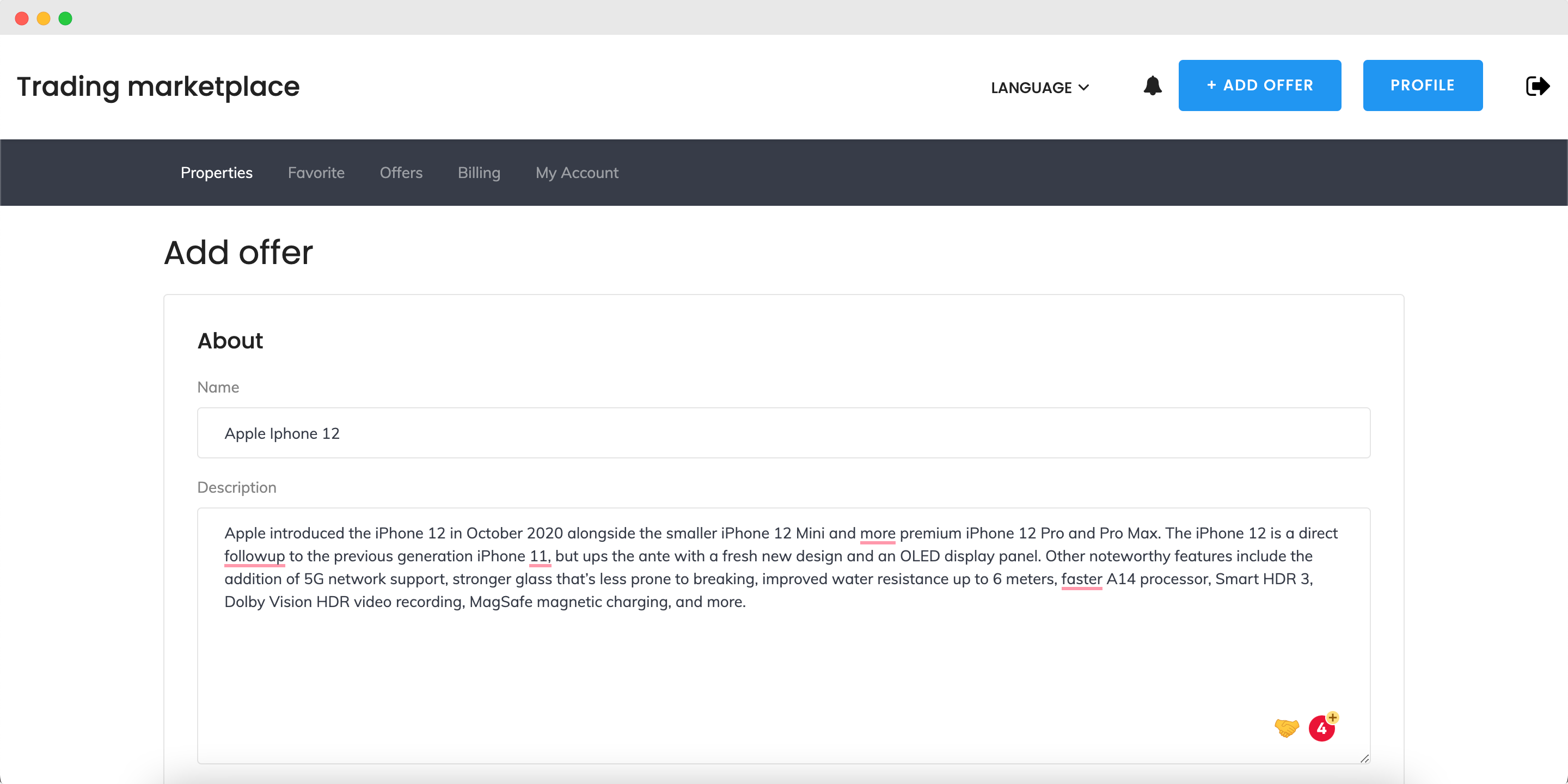 This will take them to a form where they can enter the details of their offer. Once they've submitted an offer, it should be carefully reviewed by your team. If approved, it will then be live on the marketplace for other users to view and purchase. Quite easy, right?
How buyers can find offers
There are a few ways how buyers can find offers on you trading marketplace. The easiest way is to use the filter function. They can filter offers by location, smartphone brand, and other factors you've configured in the settings.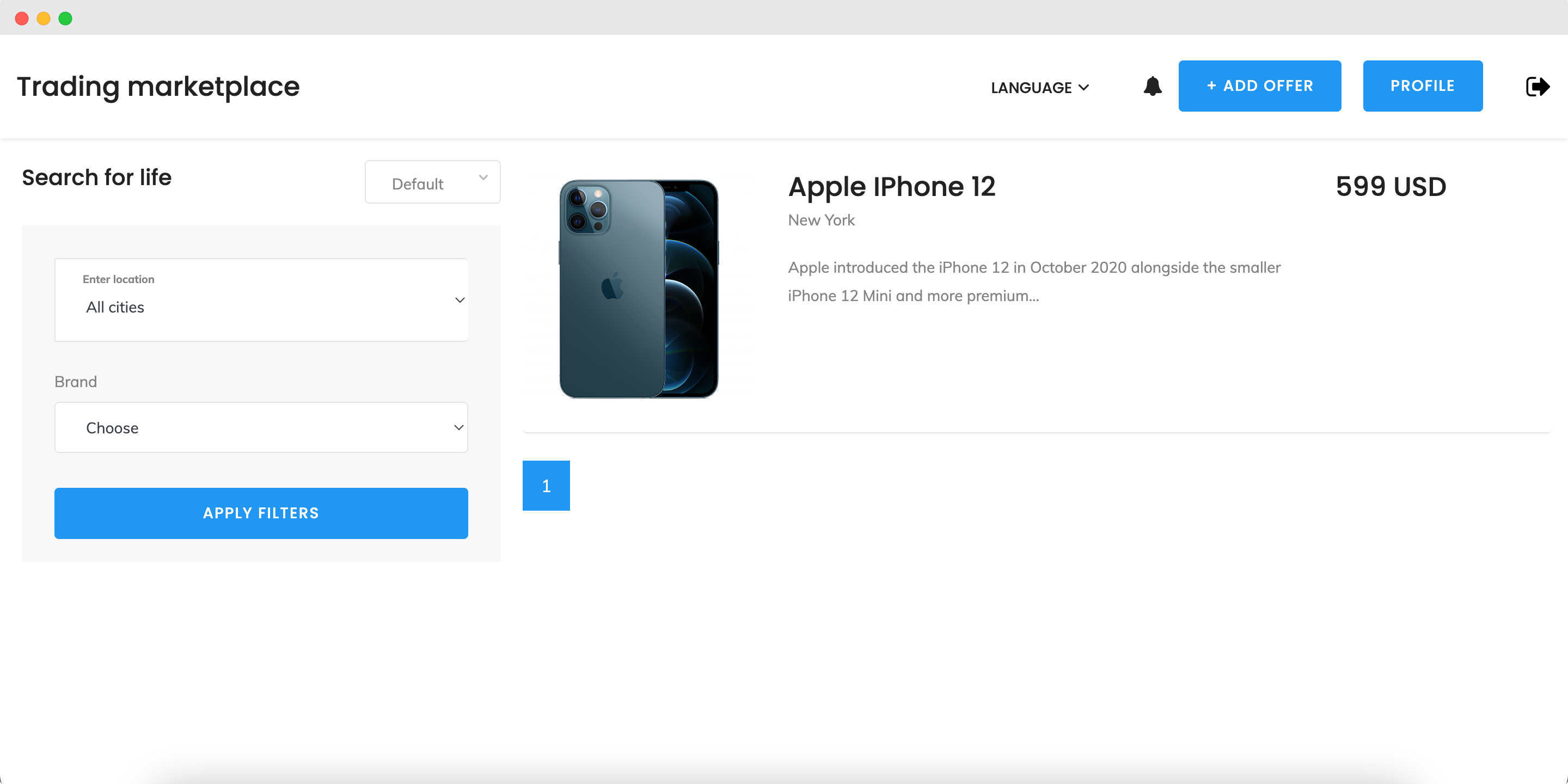 Once product was found, buyer can check its details, contact owner and send the buying request to the seller.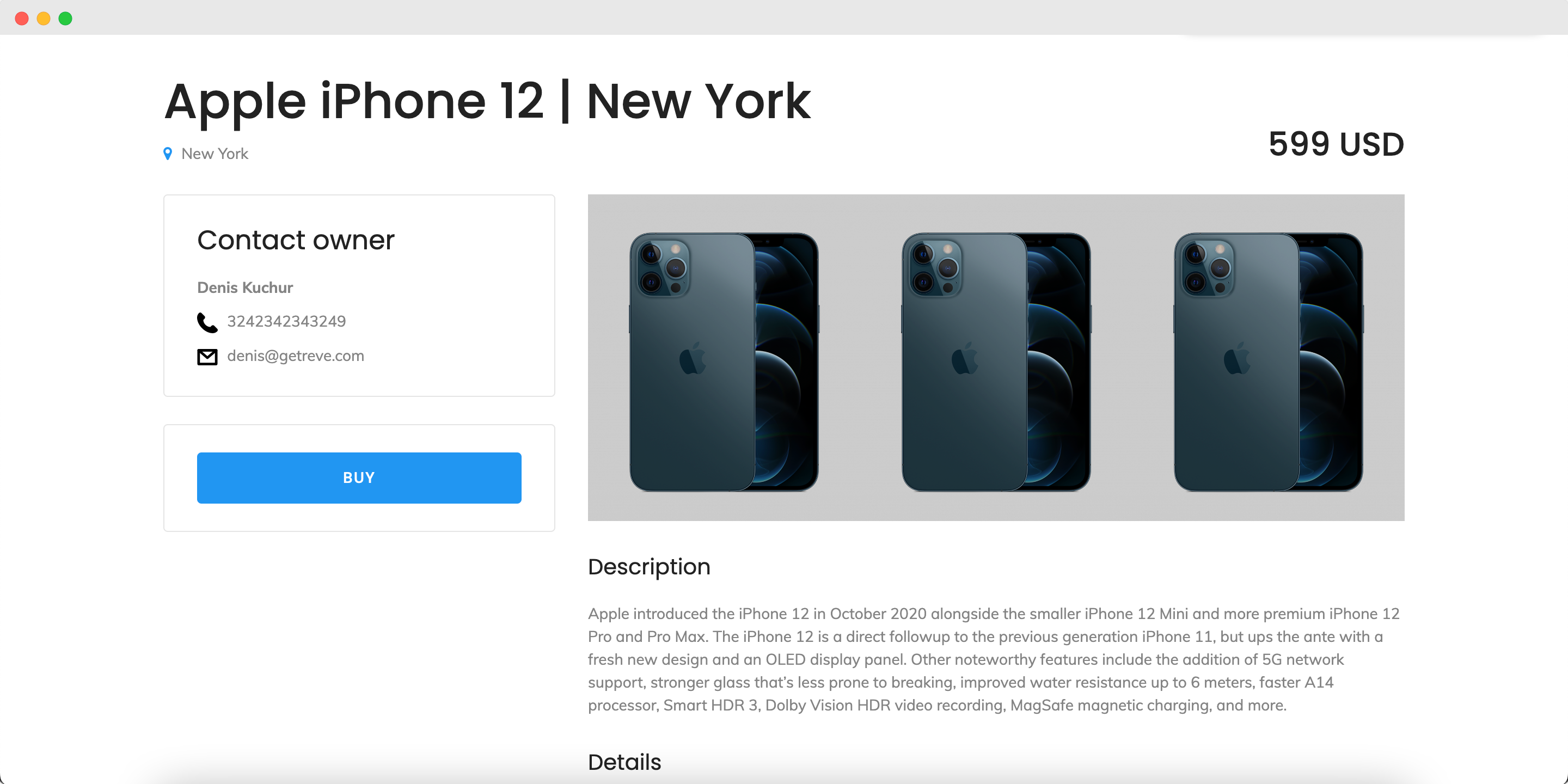 Seller in their turn can approve or reject buying request from. If approved, deal is happened :) Both seller and buyer can track the progress of renting request in their profile.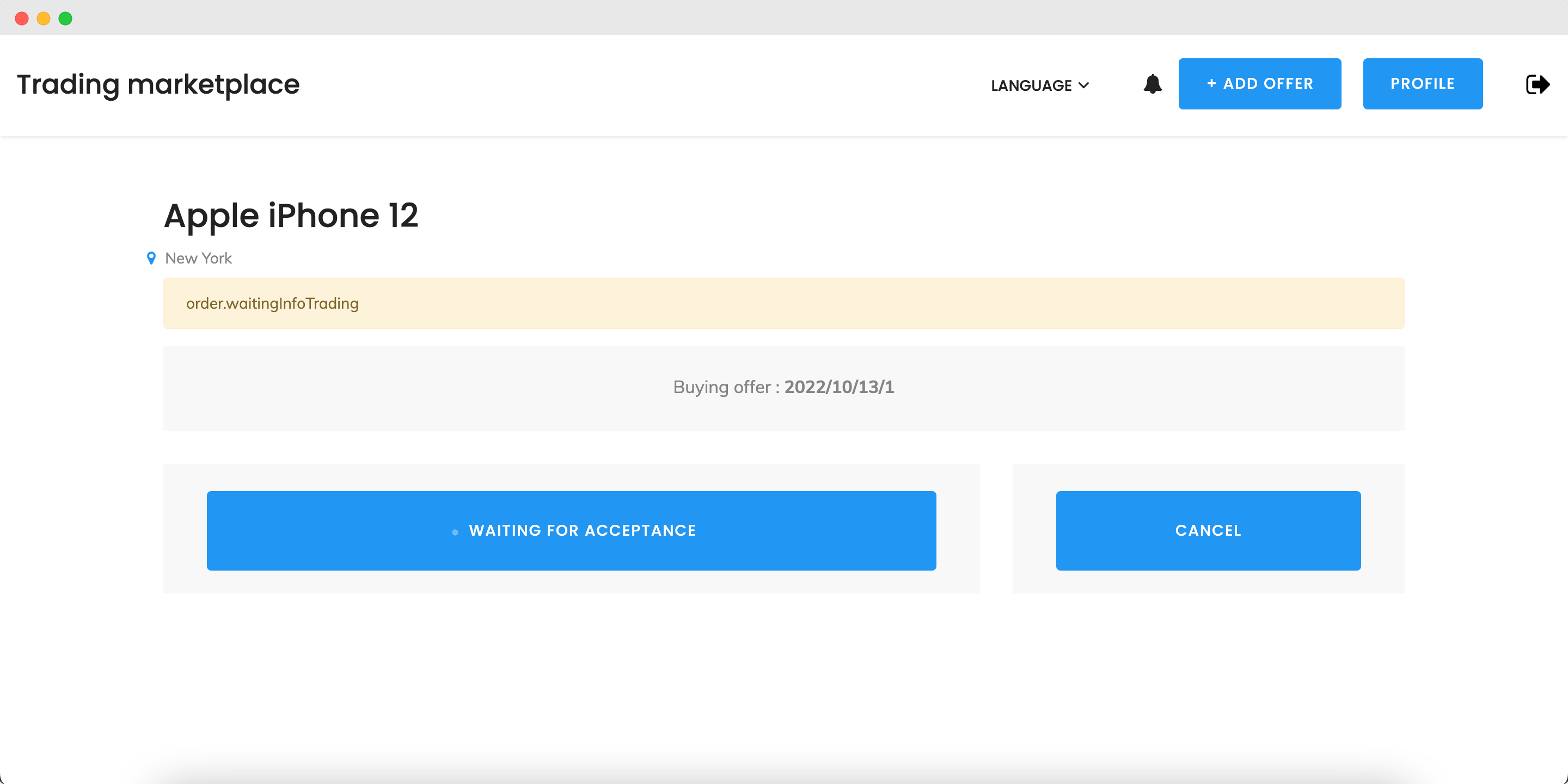 To summarize, If you are looking for a new business venture, or want to increase the profitability of an existing one, consider creating your own trading marketplace. It's a great idea with lots of potential, and we can help you get started. Contact us today to learn more about how we can work together to make your trading marketplace a success.